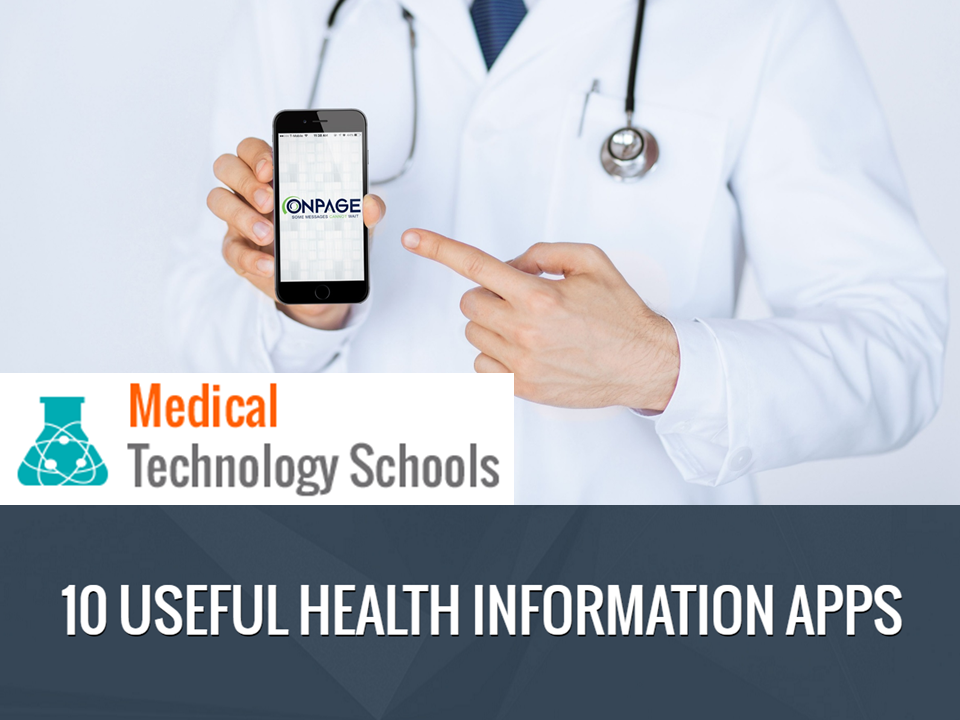 Medical Technology Schools lists OnPage's Healthcare Messaging App as one of the 10 Most Useful Health Information Applications!
Healthcare is moving towards including technology in their world which is not just good news for patients, it's good news for doctors and administrators as well. With every new advance in imaging, collaboration, or cyber security, healthcare providers can offer faster and more accurate treatment than ever before.
As patients become more knowledgeable and administrators become more mobile, these 10 apps help health information technologists and managers bring essential medical information and support literally to the palm of your hand, where it's needed most.
Check out why OnPage is perfect for hospitals and doctors.
Medical Technology Review:

The OnPage Healthcare Messaging App combines the function of a phone and messaging service with HIPAA-Compliant security for a fantastic communication model in any healthcare setting.

You can create messages by phone, email, or computer and every interaction is stored for perfect data trails.
Each message is time-stamped and you can add picture or voice attachments to any message.
And, it's all done with the highest-level of data security so that you avoid any embarrassing data breaches.
OnPage features promote HIPAA compliance
OnPage's Healthcare Messaging App features are designed to ensure HIPAA compliance. The app achieves this through:

Requiring app and web console to both come with a sign-on process.

Ensuring messaging through the app is completely secure. This even includes image and voice attachments sent along with the messages.

A sophisticated and user-friendly web console audit trail that informs you when an alert or message is Sent, Delivered and Read. This ensures complete

Accountability and delivery. Read receipts allows for easy trackability when incidents occur.

Enabling date and time stamps which are a part of every piece of communication that goes through OnPage.

Customized messaging retention time frames. All contact lists are secure as well.


Please follow and like us: