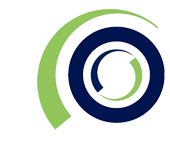 The New & Improved OnPage
High Priority & Low Priority Messaging
In One Convenient and Easy-To-Use Application
Use High Priority for:
Time-sensitive Messaging
Urgent Messaging
Medical Emergencies
Critical Alerts
IT Monitoring Alerts
High Priority
High Priority Messaging comes with intrusive, hard to ignore Alert-until-Read. OnPage alert mimic the pager urgency however it allows a rich, full text message with voice or picture attachment.
Designed for critical, time-sensitive situation, where the sender needs to be assured that the message has reached its destination AND was Read!
OnPage enables extensive incident communications tracking and audit trails for compliance and investigative purposes.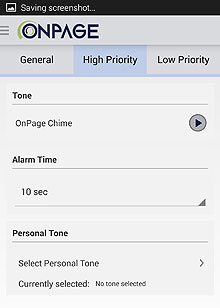 High Priority Settings
Set the Alarm Time – Set the length of each alert (5, 10, 20, 30, 60 sec)
Set a Personal Tone  – Upload your personal Ring Tone
Set the Tone – Choose from 12 different OnPage sound
Hot Tips: High Priority
Send High Priority message from Email:
From your email browser enter in the "TO" field: [email protected]
Learn: How to forward your High Priority voice mail to OnPage
Find Out: How you can use OnPage to get urgent voice messages and still keep your cell number private.
Discover: How to set up High Priority Call lines using OnPage
---
Use Low Priority for:
Non-Urgent Messaging
Casual Communications
Business Conversations
Practice Updates
Non-Critical Status Updates
Low Priority
Low Priority Messaging is a new OnPage feature. Low Priority Messaging is continuous messaging, with back and forth replies that can be tracked. Now every reply appears as a new message in your inbox, acompanied with the Alert Tone.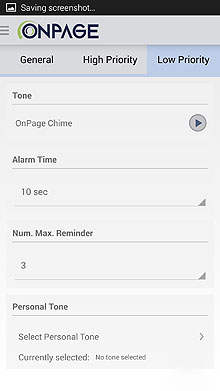 Individualized Low Priority Settings
Alert Sounds – Choose level, duration, repeats, and tones – just the way you want it.

 Alarm Time (how long it rings)

5 seconds to 60 seconds (5, 10, 20, 30 60)

HOT TIP

:

If you want a continous alarm, choose 60 seconds and then set reminders to 1 minute.

Level

Loud, Soft, Medium, Off, Vibrate

Number of Maximum Reminders
Tone – make your selection from 12 OnPage sounds. You can even select the OnPage Obnoxious Chime.
Ring Tones  –  OnPage now offers 12 new ringtones, including:

Short alarms
Tunes
Loud
Abrasive sound (that you can't miss)

Personal Tone (only in Android)

Import a sound or piece of music and use it as your alert
If you Send a Low Priority Message
The recipient will not receive the obnoxious persistent alert sound
The recipient will not get the big red exclamation mark that signifies High Priority
The recipient will be able to send back a reply. The sender will  know that it is a message.


Hot Tips: Low Priority
Sending an Email to Low Priority
If you want people to send email to your OnPage Low Priority Inbox, just have the send it to your — [email protected]
Take the OnPage Tour
Find out how OnPage can make your messaging
more efficient and productive than ever before.
Check Out The New Features!

Overview – OnPage new release for 2015
Continuous Messaging
On-Call Scheduling Management
Attachments & Additional Features