OnPage Secure Healthcare Communication
OnPage HIPAA Compliant Secure Messaging & Pager
Secure Messaging
For majority of healthcare organizations traditional pagers are still the most common way for contacting physicians and staff in an emergency situation. Moving with technology more and more healthcare providers switching to OnPage pager & Secure messaging app  for iPhone, Android, and Blackberry smartphones. OnPage secure healthcare communication provides reliable, highly available time-sensitive secure messaging with TWO levels of priorities "High" and "Low" priority.
Download our new OnPage release, it includes Conversation, Attachments, TWO-levels of message priorities, and is HIPAA compliant on all fronts.
Accountable
Know when your critical messages reached their destination and exactly when it was read

Works over WiFi or cellular for redundancy

Provides continuous audible alerts

Ensure that no message is lost!

Trust Your Mobile Security to OnPage
Reliable
Unlike less reliable pagers, non-compliant SMS solutions or pager services, OnPage pager allows you to take real-time actions — saving time and saving lives – See how OnPage Compares

OnPage / CISCO Integration Benefits
Here's what Josh said when he tested the new system:  "The speed of the message delivery is unbelievable, plus the message arrived to my device before I hung up the phone!"
OnPage subscribers will now be able to purchase a dedicated line, record a personal greeting, and receive a page on their mobile device.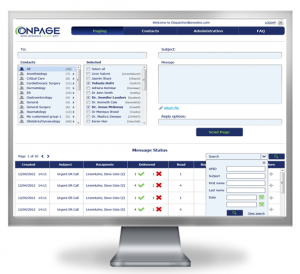 OnPage Enterprise Control System
The OnPage Enterprise Control System is a web-based dashboard that allows large and small healthcare organizations to schedule and manage an unlimited number of user groups to notify, track, and audit their priority messages from one central location.

CASE STUDY: Critical Healthcare Communication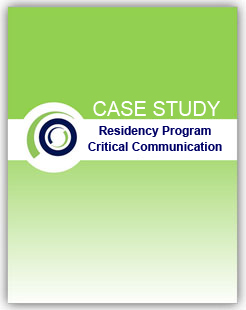 A major public medical school Residency Program in the Southeast was in a critical messaging turmoil. The IT director and his team were experiencing unreliable paging coverage, pages were  intermittently not getting through, and there was no way to know which message failed…. 3 Years Later


CASE STUDY: Six Big Problems With Using Pagers in Healthcare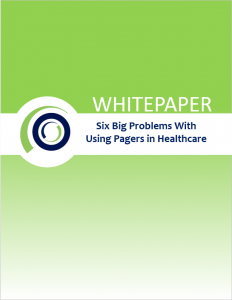 Pagers have many faults, not least is their inefficiency which costs the average hospitals $1.75 M per year in inefficient communications and can impede critical clinical workflows. So, beware of that low-cost pager. While it might be low-cost at first, it's long term costs are significant.


OnPage Benefits
HIPAA Compliant

OnPage Secure Messaging & pager app is fully HIPAA/HITECH Compliant with secure encrypted transmission form end to end with full audit trails and message logs

Continuous, Secure Messaging

Never miss a critical message again! OnPage alerts grab your attention immediately (even if you're sleeping). Our persistent alerting will push to your phone for up to 8 hours to ensure you never miss a critical message.

Attachments

Communicate in a secure environment and include images and voice attachments to your text message to deepen meaning and make informed decisions.

High Priority / Low Priority Messaging

Tailored alert settings for Time-Sensitive urgent messaging and Low Priority casual messaging.  OnPage is Simple and Powerful.

Global Coverage

OnPage secure messaging & pager works wherever you have cellular or wireless (Wi-Fi) coverage.

Audit Trails

The OnPage messaging & Paging Service running on Android, iOS, and Blackberry knows when a message is delivered, read, or replied to.

Multiple Methods of Messaging

OnPage sends messages in a variety of ways. Send via phone, email, application, or console.

Immediate Activation

You can start using OnPage in minutes! Simply download and register, and you can start sending and receiving critical time-sensitive messages.

Eliminates Multiple Devices

Ditch your pager – OnPage does it all!

On-Call Scheduling Management

Tailored

alert settings

for Time-Sensitive urgent messaging and Low Priority casual messaging.  OnPage is Simple and Powerful.

Pager Off Capability

Turn your OnPage off when you are off pager duty/off on-call.

Remote Wipe Ability
Download the OnPage application to your smartphone, register and start receiving messages! It's that simple!


Testimonials
"OnPage is the perfect tool for medical personnel wishing to send secure and dependable messages via cell phone. So far both physicians and staff are thrilled with the reliability, ease and ability to keep track of messages for any given length of time. The staff at OnPage has been both courteous and helpful, and the cost is fair. 10 out of 10."
Barbara D. Capriotti, Office Manager, SJH Cardiology Associates
"It seemed so silly to walk around with both a pager and a cellphone all the time. OnPage liberates the physician from the physical pager. OnPage gives the office staff the satisfaction of knowing when a page has been delivered and, separately,when it has been read. No more asking 'did you get that page?' — if you didn't, they already know. The network is reliable, page delivery is instant, and the support is robust. Would definitely recommend. "
George Younis, MD General & Interventional Cardiology St. Luke's Episcopal Hospital / Texas Heart Institute
"I have found OnPage to be both reliable and convenient. No more do I need to carry around a separate pager and I love the fact that I don't need to notify the answering service that I've received a consult, as the application notifies them as soon as I open the message."
Greg Koshkarian , MD, FACC -Desert Cardiology of Tucson.
Integration With Answering Services
OnPage pager works closely with our answering service partners on co-promotion activities, co-selling, and partner pricing to provide greater value to our partner's current customers, current OnPage customers that can benefit from our partner's solutions, and new prospects we jointly target.
---