HIPAA Text Messaging For Healthcare
HIPAA Messaging Compliance & Pager Replacement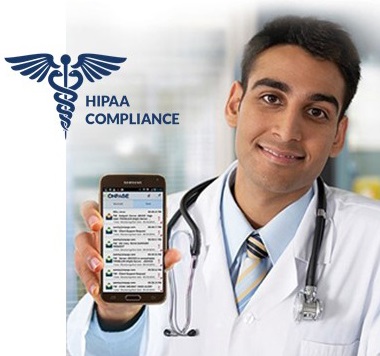 Healthcare Secure Messaging and Pager App
HIPAA Compliant, Efficient and Easy to Use.
HIPAA Messaging
If your healthcare organization is one of the 85 percent allowing employees to use personal devices at work, you need to integrate a secure messaging solution to ensure safe transmission of PHI.
The new release includes Pager Replacement and Secure messaging in one application loaded to a personal device while allowing Enterprise Audit Trail and Permission. OnPage for Health Care brings Paging and Critical messaging to your Smartphone for efficient assured communication.
Accountable
Know when critical message reached its destination and exactly when it was read

Message was NOT read within few minute – Escalate it to the next physician on-call

OnPage high-Priority messaging Alerts-until Read to ensure no message is forgotten
Reliable
Save time and save lives with OnPage.  Unlike less reliable pagers, non-compliant SMS solutions, OnPage  allows you to send full, detailed messages with a voice or picture attachment in real-time. OnPage  works on both WiFi and cellular signals.  If you are out of Wi-Fi AND Cell range, your alerts are never lost and will appear as soon as you regain coverage. The OnPage secure back-up system runs on redundant hardware in each data center.

---
Try a 7-day Free Trial of OnPage

---
Testimonials
"I searched for an iPhone platform paging system for quite some time before I found OnPage. It helped us detach from our long use of pagers & we've quickly learned to trust it for on-call shifts.
It meets our needs nicely & is very user-friendly. It's very comforting to have a HIPAA compliant paging system, a system that allows us to quickly send out notices, & being quickly reached by the Hospital when needed is exactly what we needed."
– Miguel A. Cano, MD, FACOG OB/Peds, Adventist Health Center – Reedley. Diplomat of the American Board of Obstetrics & Gynecology
***
"OnPage is the perfect tool for medical personnel wishing to send secure and dependable messages via cell phone.
So far both physicians and staff are thrilled with the reliability, ease and ability to keep track of messages for any given length of time.
The staff at OnPage has been both courteous and helpful, and the cost is fair. 10 out of 10."
– Barbara D. Capriotti, Office Manager, SJH Cardiology Associates