Onset Technology Mobile Messaging Solutions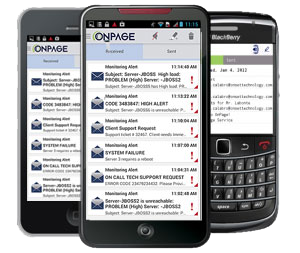 Since 1997 Onset Technology is the leading provider of Prioritized Mobile Messaging Management solutions, enabling organizations to leverage their mobile deployment to ensure communication continuity and uninterrupted access to information at all times.
METAmessage® Mobile Device management, InForm, Business Communication & Information Continuity are just few of the legacy solutions developed and deployed by Government, financials and legal organization. Utilizing advanced patent-protected technology, Onset Technology empowers organizations to transform their mobile communication assets into a ubiquitous platform for continuous and advanced messaging services that enhance organizational responsiveness in day-to-day and at times of an emergency.
Moving forward with time, Onset Technology developed OnPage®, a brand-new cloud base solution designed from scratch to support the need for high-availability, scalable, Secure Messaging, hosted solution supported on all leading devices. OnPage Priority Messaging increasing the efficiency and value of corporate mobile communication resources and elevating the level of awareness to critical information.
Onset Technology's Mobile Messaging Management solutions are used by over one thousand organizations including many of the leaders in the financial, legal, and healthcare sectors as well as major federal and local government agencies.
Onset Technology partners with select national and local answering services providers, IT Monitoring software solutions, complementary technology companies, and other strategic partners that can add value to our customers through collaboration with our R&D, marketing, and sales organizations.
When Communication is of the Essence…
Communication is the lifeline of your business, in day-to-day and even more so at a time of disaster. Onset Technology provides Smartphone-based business continuity solutions that ensure uninterrupted communication and access to information at all times.
Leveraging Onset Technology infrastructure, you can guarantee that high-priority messages get the appropriate attention and response, elevating the level of day-to-day responsiveness throughout your organization.