OnPage For IT Professionals

OnPage Integrates with monitoring solutions!  If it can send an email or work via a modem, it will work with OnPage. 
Elevate and Separate CRITICAL Messages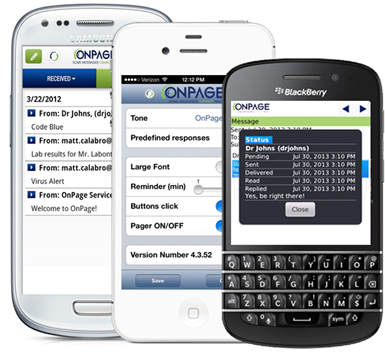 Server admins, disaster recovery personnel, continuity specialists, operation managers, IT help desks and other IT personnel from all corporations rely on OnPage.
Businesses, live and die by the reliability of their servers. Server downtime means company downtime – revenue loss, reputation damage, and potential customer defections.
OnPage is the only technology for smartphones that rises above all other communication channels to make sure critical alerts from your IT systems or help desks grab your attention immediately, even if you're sleeping.
OnPage can also be initiated from any phone which is ideal for the IT help desk. Just ask your customers to dial the OnPage toll free number and follow the instructions.  For large group notifications use the OnPage Control System. Send an alert to an individual, a group, or the entire company and track when messages were received, read and responded to, recipient by recipient.
Learn More about the Enterprise Control System

---
Set Up In Minutes!
no credit card. no commitment.
Sign up for a fully functional 14-day free trial on the OnPage account to decide if OnPage is right for your business.
---
 Features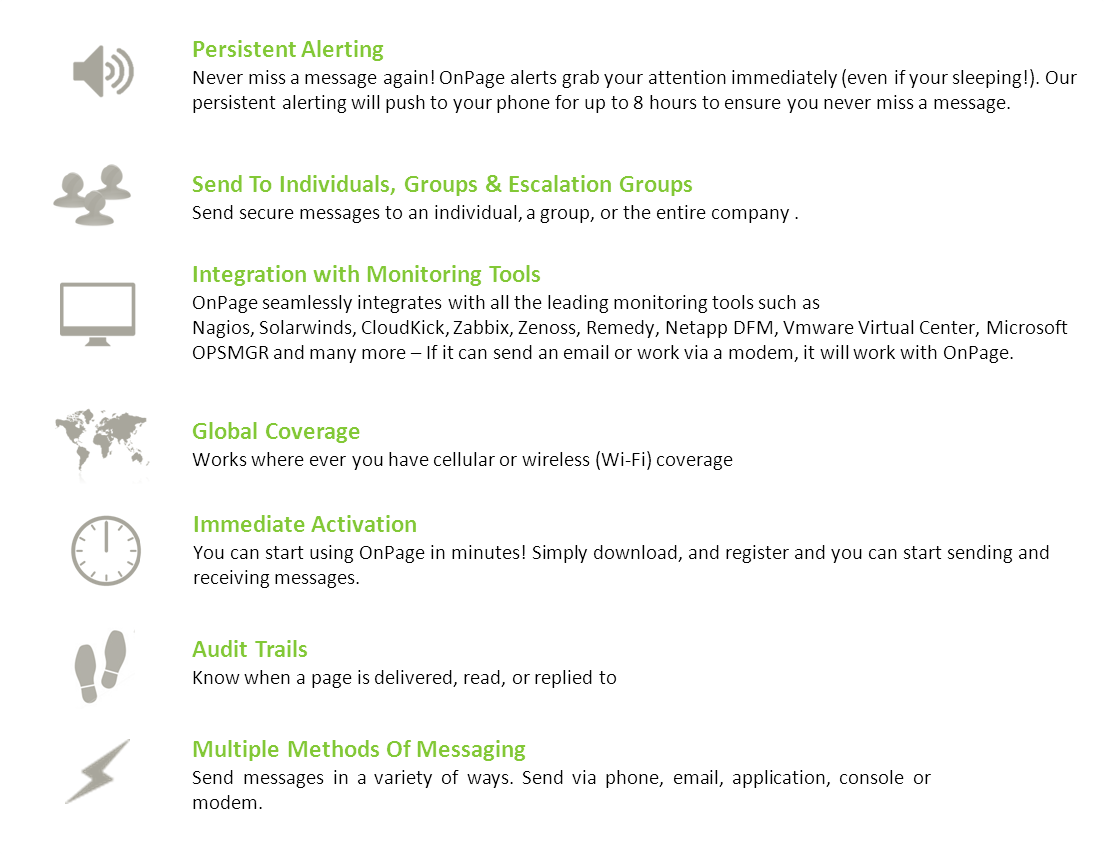 ---
Testimonials
"Agility is always looking to improve performance and efficiency during a disaster," says , "We used to use traditional pagers to receive customer alerts, but then we discovered the OnPage solution – a much more current and effective technology. We tried OnPage and quickly decided to move our entire first response team to the OnPage solution. It has been working extremely well for us and allows us to respond even quicker to our customers' needs."    
 Paul Sullivan VP & GM at Agility Recovery Solutions
"I originally setup my iPhone to receive email alerts from Nagios but the emails were too slow. It sometimes took up to 30 minutes to receive. I tried sms but it was driving me crazy because I didn't know if someone was messaging me or if it was Nagios. I went to the Apple App store and found onpage. The app worked extremely well. I've never missed a page and every time a page comes through, I am able to easily distinguish the tone. As an IT professional, I would highly recommend this app for mission critical systems."        
A. Gouyang,  Server System Admin – Model N,"
The use of OnPage's service on our users smart phones has exceeded our expectations in every way. Their service has allowed our users to quickly get rid of the alpha pagers that had been hanging off of their hips for many years. We are especially pleased with the persistent nature of the messaging and the fact that we no longer experience 'missed' pages!"    
Gary Novosel Sr. Process Automation and Computing Analyst at Alcoa
---
Some Of Our Customers
---