OnPage Pager App For IT Professionals
.
Some Of Our Customers
.
Elevate and Separate CRITICAL Alerts
OnPage page app rises above other communication channels on your Android, BlackBerry, or iPhone to ensure critical system alerts grab your attention immediately – even if you're sleeping.
.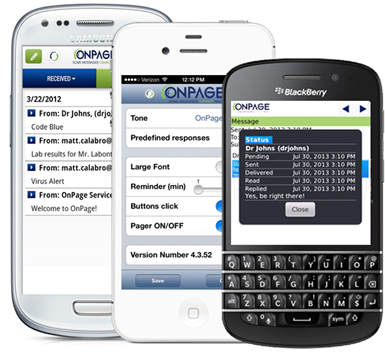 IT Professionals Rely on OnPage
Server admins, disaster recovery personnel, continuity specialists, operation managers, IT help desks, and other IT personnel rely on OnPage to deliver server alerts, system alerts, and network alerts with continuous alert until read.
Businesses live or die based on the reliability of their servers
Server downtime means company downtime – revenue loss, reputation damage, and potential customer defections.
OnPage incident alert can be initiated from any monitoring service that can send email or SMS while pushing it to your Android, iPhone, or BlackBerry device with prominent alert. For IT help desk, OnPage can be initiated from any phone. Just ask your customers to dial the OnPage toll free number and follow the instructions.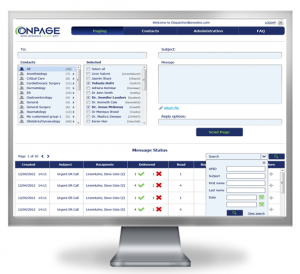 .
OnPage Enterprise Control System
Get the OnPage Enterprise Control System for large group notifications. Create groups and escalation groups to ensure redundancy. Be confidant that your incident alerts don't go unattended. Track responsiveness to incident alerts with the time stamped audit trail.
Learn More: OnPage Enterprise Control System
OnPage integrates numerous monitoring solutions, including: Nagios, Remedy, and SolarWinds. If it can send an email, sms, or work via a modem, it will work with OnPage. 
OnPage vs Pager or SMS Gateway:
Comparison Chart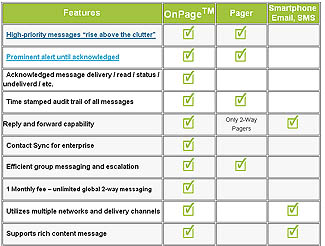 Find out: Why OnPage Combines the Best of Both Worlds
OnPage offers the urgency of the pager with the ease-of-use of email or SMS
Features
.
Alert Until Read

Never miss a critical incident alert again! OnPage alerts grab your attention immediately. Our persistent alerting is pushed to your Android, BlackBerry, or iPhone for up to 8 hours, ensuring you never miss an alert.

Groups and Escalation

Audit Trails

The OnPage Paging Service running on

Android

,

Blackberry

and

iOS

, comes with a time stamped audit trail for all alerts.

Pager Off Capability

Turn your OnPage pager off when you are off pager duty.

Eliminates Multiple Devices

OnPage lets you ditch your beeper and consolidate all devices and function to your Android, BlackBerry, or iPhone.

Global Coverage

OnPage works wherever you have cellular or wireless (Wi-Fi) coverage.

Multiple Methods of Messaging

Send alerts in a variety of ways for redundancy — via application, console, email, modem, or phone.

Immediate Activation

You can start using OnPage in minutes! Simply download and register, and you can start sending and receiving messages.

Check out our fully functional 14-day free trial and decide if OnPage is right for you.
.
Testimonials
"Agility is always looking to improve performance and efficiency during a disaster," says , "We used to use traditional pagers to receive customer alerts, but then we discovered the OnPage solution – a much more current and effective technology. We tried OnPage and quickly decided to move our entire first response team to the OnPage solution. It has been working extremely well for us and allows us to respond even quicker to our customers' needs."    
 Paul Sullivan VP & GM at Agility Recovery Solutions
"I originally setup my iPhone to receive email alerts from Nagios but the emails were too slow. It sometimes took up to 30 minutes to receive. I tried sms but it was driving me crazy because I didn't know if someone was messaging me or if it was Nagios. I went to the Apple App store and found onpage. The app worked extremely well. I've never missed a page and every time a page comes through, I am able to easily distinguish the tone. As an IT professional, I would highly recommend this app for mission critical systems."        
A. Gouyang,  Server System Admin – Model N,"
The use of OnPage's service on our users smart phones has exceeded our expectations in every way. Their service has allowed our users to quickly get rid of the alpha pagers that had been hanging off of their hips for many years. We are especially pleased with the persistent nature of the messaging and the fact that we no longer experience 'missed' pages!"    
Gary Novosel Sr. Process Automation and Computing Analyst at Alcoa
---
---