OnPage Priority Messaging
Some messages cannot wait!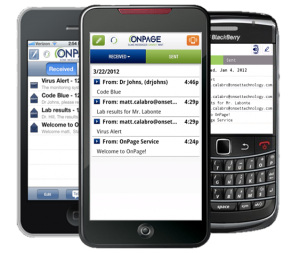 OnPage Priority Messaging is a secure messaging pager app for iPhone, Android or Blackberry smartphone. The virtual pager application allows you to receive and send alerts just as you would through a traditional pager but with the power and convenience of a smartphone.  If you need to ensure immediate, secure delivery of alerts or high priority messages with reliability and convenience then OnPage Priority Messaging is your solution.
OnPage Priority Messaging Features:
HIPAA Compliant Messaging- Full audit trail and message logs.
Persistent alert & repeated delivery  – Never lose a message
Eliminates multiple devices – lets you consolidate all devices and functions to just one – your smartphone
Priority Dedicated Inbox & Outbox- Pager alerts rise above the clutter of routine emails, SMS, and phone calls
Full reply capabilities including convenient one-touch pre-defined responses
Personal Privacy – no need to provide your cell #  – keeps direct contact info confidential
Global Connectivity -  Works where ever you have cellular or wireless (wi-fi) coverage
Message Forwarding- Easily forward messages to other OnPage users or groups
Remote Wipe- Delete all of the user's contacts and messages  and log the user out of the app.
OnPage Control System
 
OnPage's Enterprise Control System is an add-on of the Priority Messaging application. The Control System is a web-based dashboard that helps clients to consolidate their heavy paging volume. With the dashboard, you can manage, notify, and audit the pager and priority messaging flow. The Control System helps clients with multiple accounts better manage their priority communications.
Control System Features:
Send secure messages in a matter of seconds!
Auto Complete Feature when sending messages
Individual and group paging capability
Contact management for multiple pager accounts
Send Secured Messages through various channels- Dispatcher, Mobile, Email and More
Audit trail with delivery and read confirmation
HIPAA Compliant, secure and encrypted messages
Ability to create escalation groups and define settings
Contact Sync- Sync all organizations contacts into the app instantly
Remote Wipe Ability
 Learn more about OnPage's Enterprise Control System
OnPage API
The OnPage Priority Messaging API connects your applications to the OnPage system. The API focuses on integration between OnPage and our customer and/or partner applications in order to bring you a flexible and convenient secure mobile messaging system.
Benefits of OnPage Priority Messaging API:
HIPAA Compliant, secure and encrypted messages
Send Secured Messages through various channels- Dispatcher, Mobile, Email and More
Complete Audit Trails- Know when your messages were sent, delivered, read and replied.
Individual and group paging capability
Click Here To Learn More About OnPage's API Integration