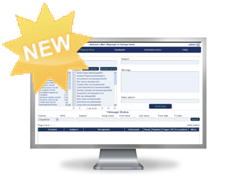 The new Web Management Console  was released on September 9th, 2012.   The new console ensures delivery of priority messages to the right people, while providing a new level of flexibility in organizing and tracking priority communications.
In the new Web Management Console, users will have access to new features and options that will enhance their paging experience.  One game changer is the creation of escalation pathways which allows for a message to be sent to a succession of people and if that  message is not read by the intended recipient within a predetermined time period it will then send to the next.
Other game changing features includes the ability to administer roles and permissions so each administrator can have only the access they need.  Retention policies is another feature that will allow enterprises to comply with regulations via automatic export of all their messages onto their own servers and permanently removing them from the OnPage servers.
To read more about new features in the Web Management Console click here
To read the Press Release click here
Please follow and like us: