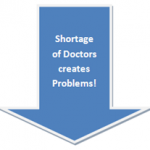 If you had the chance to read OnPage's previous post "Doctors speak up for Digital Communications" then you understand how overworked doctors are feeling with paperwork, patient visits, and follow ups. Well recently it has also been announced that there is a growing shortage of physicians in some specialties which could result in even longer wait times and delays in receiving medical care.
A major reason our doctors are outnumbered by patients is because of the increasing age of the baby boomers. With the baby boomers starting to enter into retirement the demand for specialty physicians that typically treat elders is increasing rapidly and there simply is not enough time for physicians to see all of their patients. One area that is really feeling the loss of physicians is cardiology. According to the American Heart Association, as of 2009, there was a shortage of about 1,700 general cardiologists in the United States. That number is projected to increase to as much as 16,000 by 2025. To make matters worse The American Heart Association also predicts that by 2020 at least 20 million more people in the U.S will be seeking treatment for heart disease than there were in the year 2000. Some other areas that are currently experiencing shortages are Psychiatrists, Dermatologists, Neurologists, and Critical Care Physicians.
It has been predicted that with the increasing age of baby boomers, the country would experience a shortage in doctors, but that doesn't mean the doctors available should have to work extra hard. We need to ensure that our doctors have the greatest amount of help possible through new technological advancements. Today's doctors are always on the go and need a higher level of mobility in order to be efficient, accountable, and accurate. Mobile smart devices have become a vital part of a physician's day to day work and many doctors are currently using various medical apps to become more efficient. One application that would benefit doctors is quick and secure priority messaging to allow them to separate the important messages from the clutter of their daily life. With priority messaging on their smartphone doctors are able to save time with key features such as one tap reply or rich media that gives them the ability to send and receive clickable hyperlinks and phone numbers in seconds. This simple change allows doctors to spend less time sorting through their messages and more time focusing on what really matters, the patients.
Please follow and like us: