OnPage Secure Messaging Solution
OnPage is a secure messaging solution that eliminates the need to carry a Traditional Pager. Separate the critical messages from the clutter while maintaining HIPAA compliance . OnPage has a stellar history of ensuring Critical, Time-sensitive messages always get to the right person right away!
Our cloud based solution supports the need for a high-availability, scalable messaging system. We elevate the level of awareness to critical alerts on all leading mobile devices.
Messaging is encrypted to adhere with HIPAA, and any device can be remotely wiped via the Enterprise console.
We take Critical messaging very seriously. Hence messages arrive into a dedicated inbox on the device with a prominent Alert-until-Read, and a time stamped audit trail attached to each message so users don't have to check their Email box, SMS box or Voice-Mail and dig for those critical messages.
OnPage allows Healthcare providers and IT professionals to be efficient, accountable and reliable – No more, get a message on one device and dial back to acknowledge the message from another device – Instead, reply to a message with full length instructions or with one quick tap using the predefined response saving precious time.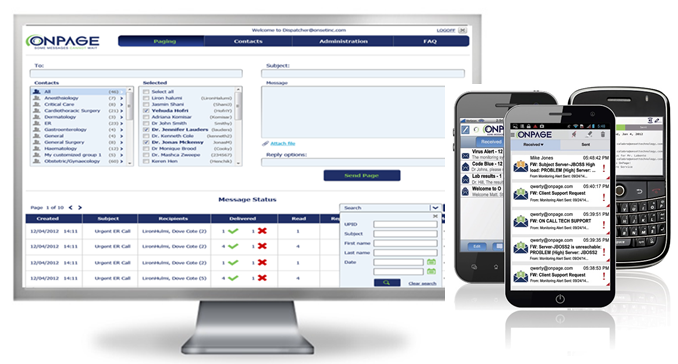 The OnPage service enables enterprises to be in total control of the entire organization's priority communications easily and reliably. Enterprise can create Groups for efficiency and Escalation with Fail-over for redundancy or create schedules to reduce burn-out and alert fatigue.

Secure Messaging Solutions by OnPage