OnPage SOAP API
Overview
The OnPage SOAP API provides programmatic access to OnPage messaging services. Typical applications include sending messages to individual OnPage users or groups and receiving tracking information for messages such as delivery and read timestamps or reply information. The API is based on open standards known collectively as "Web Services," which includes the Simple Object Access Protocol (SOAP), Web Services Definition Language (WSDL), and the XML Schema Definition language (XSD). These standards are supported by a wide range of development tools on a variety of platforms.
Like many web services, OnPage SOAP is a combination of client-side and server-side Schemas, hardware and software servers. As you can see below in the OnPage API diagram, customers have two services that should be implemented, both client and server. The SOAP client application is used for creating new messages to be sent over the OnPage service, while the Callback Server is a web service implemented for OnPage to send information about the messages to, such as the delivery/read/reply times and details. The callback server is not required, if the intention of integration is only to send messages to OnPage users, but without it your application will not be able to display message tracking or reply information.
Contact us for more information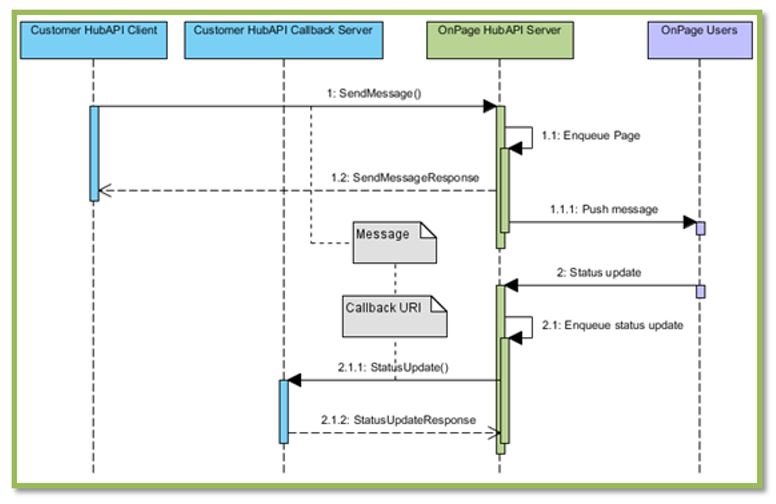 To get started contact the OnPage support team to receive the required API token and API documentation.
Please feel free to download and use any of the following starter client API examples:
Python
Web Service Client:
GitHub: https://github.com/onsetinc/onpage_hub_api_client_py
PyPI: https://pypi.python.org/pypi/OnPage-HUB-API-Client
You can also install the OnPage HUB API Client module using one of the Python setup tools:
easy_install OnPage-HUB-API-Client
or
pip install OnPage-HUB-API-Client
Command Line Interface (CLI)
A OnPage HUB API Client Python module which includes a fully implemented CLI Python script for send pages from the command line.
GitHub (source and usage sample): https://github.com/onsetinc/onpage_hub_api_cli_py
Node.js
GitHub (source and usage sample): https://github.com/onsetinc/onpage-hub-api-client-nodejs
NPM: https://www.npmjs.com/package/onpage-hub-api-client
To install OnPage HUB API Client module use:
npm i onpage-hub-api-client
Java
Provides Java source code for base OnPage HUB API Proxy Classes which can be used to integrate page sending to your code.
GitHub (source and sample): https://github.com/onsetinc/onpage-hub-api-client-java