Secure Alerts, Audit Trails, On-Call Scheduling & Critical Messaging In One Convenient & Cost Effective Application!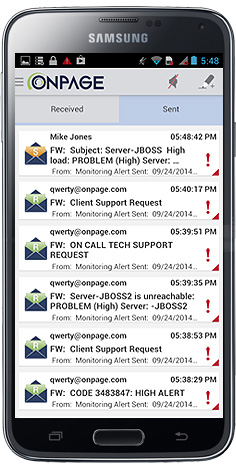 A Revolutionary Way To Prioritize Communications
OnPage integrates Priority & Secure Messaging into one application, ensuring IT, emergency responder, and healthcare professionals, globally, their CRITICAL MESSAGE IS NEVER MISSED!
OnPage takes mobile communication to the next level with the latest all-in-one-app features:
Uses the data channel rather than the congested voice channel to ensure messages get through

Fully Redundant: Hardware, Software

Hosted Managed Cloud Infrastructure with dedicated servers replicated in two DR locations.

24×7 support and monitoring

SAS 70 certified and SSAE 16 compliant facility

Encrypted, Secure in transit and at rest
Assured Delivery – Priority Messages Rise Above the Clutter
Complete Audit Trail of message status

Persistent alert & repeated delivery  – Never lose a message!

Redundancy via Groups, Escalation and Fail-Over capabilities

Audible alert overrides device profile if set to silent (BB & Android compatible. iPhone workaround)

Global Connectivity –  Works where ever you have cellular or wireless (wi-fi) coverage
Convenience of a Smart Phone: IOS, Android, & Blackberry

Eliminates multiple devices – lets you consolidate all devices and functions to your smartphone

Priority Dedicated Inbox & Outbox. (rise above the clutter of emails, SMS, and phone calls)

Multiple Methods of Messaging – Send/Receive via email, phone, pager, web or the application

Message Forwarding- Easily forward messages to other OnPage users or groups

Contact Sync- Syncs entire organizations contacts into the application instantly

Full reply capabilities including convenient one-touch pre-defined responses

Supports 1024 word rich media vs 140 characters for SMS text

Keeps work and private messages separate

Multiple ringtone options (Blackberry & Android users can create personal ringtone!)
Security, Privacy & Compliance
Compliance – Secure HIPAA/HITECH service.  Full audit trail and message logs.

Secure, encrypted transmission – important for health, legal, and IT compliance

Remote Wipe- Delete all of the user's contacts and messages  and log the user out of the app.

Meets HIPAA Archiving Requirement of 6 years or more.

Personal Privacy – no need to provide your cell #  – keeps direct contact info confidential

Secure on-line web portal to manage audit pages  and accounts
Ease of Acquisition:
Zero IT Cost – Eliminate infrastructure and hardware maintenance with this completely hosted service

Integrates seamlessly with other messaging systems, IT monitoring systems, etc.

Set Up In Minutes!
No credit card. No commitment.
Sign up for a fully functional 7-day FREE TRIAL