Why OnPage ?
.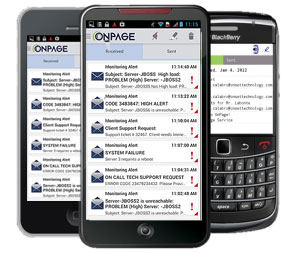 It's a Secure  Texting and a Pager on Your Smartphone
OnPage elevates Critical alerts like a Pager and yet gives you full SECURE messaging capability to iron out issues with your colleagues to mitigate errors.
OnPage is a cloud based, enterprise-grade, secure messaging and pager app for iPhone,  for Android, and for Blackberry.
OnPage messages arrive into a dedicated inbox on your smart phone with a prominent Alert-until-Read. A time stamped audit trail is attached to each message. A Delivery and Read notification is always sent to the sender for total assurance. OnPage priority messaging eliminates the need to carry multiple devices in order to separate the critical messages from the clutter.
Cloud baseded, Redundant & Ultra-Secure
Our cloud based, redundant, servers are hosted in several ultra-secure, HIPAA, SAS 70 and SSAE 16 compliant hosting facilities.
Enterprise Control System for Organizations
The OnPage service can be augmented with our intuitive Enterprise Control System that enables enterprises to initiate and manage their priority communications from a centralized location and follow the status of each message.   It enables enterprises to create thousands of users within minutes, assign users into groups, as well as create escalation rules for efficient messaging.
.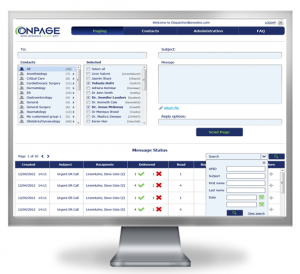 Five Reasons To Use OnPage
Customers

Take a look at OnPage's range of customers that range from the Medical community, to IT professionals, Financial, Media, call centers and more!

Testimonials

OnPage vs Secure Texting
OnPage vs Pager vs SMS

Compare OnPage with traditional pagers and SMS texting and see the difference!

Pricing

.
OnPage Integrates with monitoring solutions!  If it can send an email, sms, or work via a modem, it will work with OnPage.