OnPage is Better Than SMS Gateway
Works Like a Pager — As Easy as SMS
OnPage Combines the Best of Both World:
The urgency of the pager with the ease-of-use of email or SMS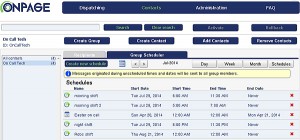 Why OnPage Is Better
Than SMS Gateway
It Pays for Itself — even if you only use OnPage to avoid the downside of email to SMS gateway
Features Include — audit trails, persistent alert, receive & read confirmation, and scheduling
Easy Integration / No IT required — (Nagios, Remedy, SolarWinds, etc.)
Outlook to OnPage has a 1024 Character Limit –vs the 140 character limit of SMS
OnPage is Secure — it's over the data channel *(Encrypted from app to app & console to app)
(* SMS is NOT secure…. it's  over the voice channel)
What Our Customers Say
"Pager Gateway and Email to SMS were both flakey and unreliable. We were looking at something where we could get a guaranteed response or confirmation — some of the functionality that your service offers. Those were all key benefits from OnPage."
Energy Customer
"We have a significant amount of alerting going on that is email based from pretty much every system in our environment:  Unix, Linux, mainframe, and appliances. The one common scenario is that most things can send out an email. We needed a system that could elevate those messages reliably and Email to SMS gateway didn't cut it."
Utilities Customer
"Having direct visibility to the user, and also having the confirmation from the user, and the confirmation of acknowledgement were two key components. I can guarantee the message is delivered and I can guarantee that I know whether the individual responded or not… the confidence in that process was a big selling point."
IT Enterprise Customer
"There may be time to time that it will be sent from the client itself, and another benefit of your service is having the central console where if we had an email outage it gives us a secondary method of reaching out to IT."
Health Care Customer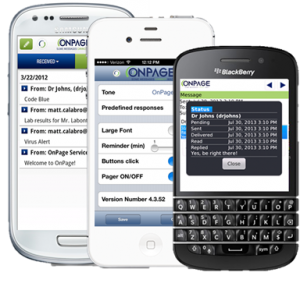 Add Your Monitoring Tools — (Nagios, Remedy, SolarWinds, etc.)
OnPage integrates with IT monitoring tools for application, databases, websites, servers, and much more.
Or, Configure Ruling Within Your Email Client — (Outlook, Lotus Notes, Email Gateway)
Create Your On-call Schedules — Determine and Organize who's on-call across your IT team(s).
Alerts Work Everywhere — Receive your high priority alerts via OnPage. Redundancy can be sent via email

OnPage – Rise above the clutter™!
Fix Critical Outages Faster By Alerting the Right Person Everytime!
Trusted by thousands of users and companies across the globe
START YOUR FREE 14 DAY TRIAL —–