Do you want to send OnPage alerts and get the status updates all inside Slack?
Slack is a great tool for team communication and provides open channels for conversation so everyone has a transparent view of everything that's going on. By integrating with OnPage, you can keep teams up-to-date on incidents within the Slack channels you already use and automatically trigger crucial events into OnPage from Slack.
Here's a short video that reviews the integration steps.
Simply follow these steps to add the OnPage Application to your Slack Team:
(1) Go to https://slack.onpage.com and login using your OnPage Dispatcher credentials.
(2) Click on the  


button and Authorize the OnPage Application.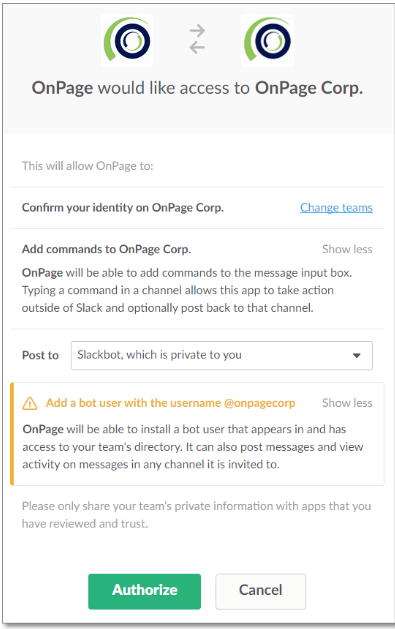 (3)Type slash command /onpage help in Slack to get more usage instructions.
(4) Start communicating with Slack and elevate critical conversations to OnPage.